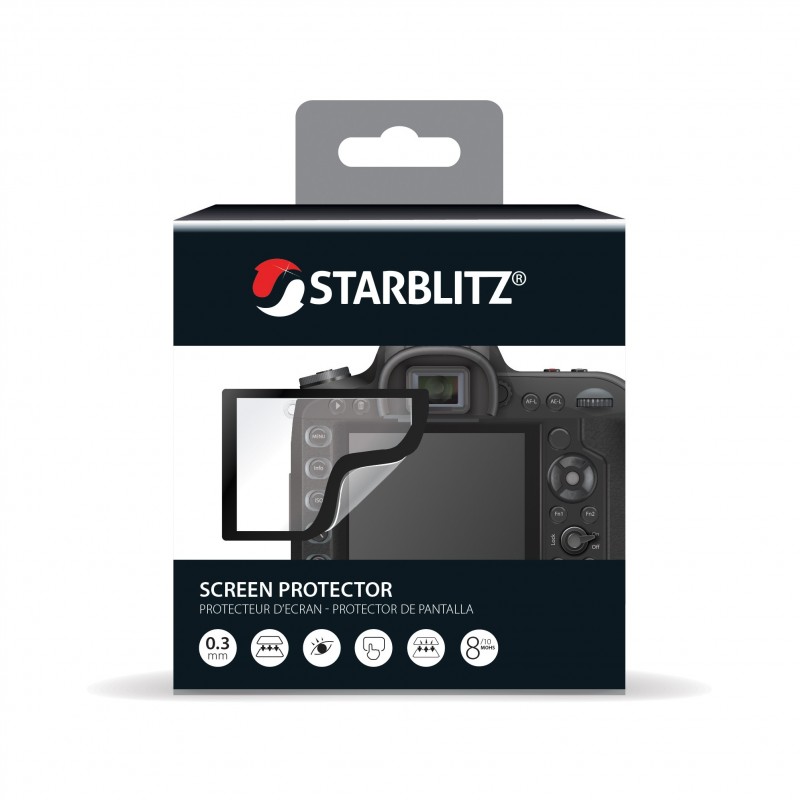  
Self-adhesive glass screen protector
For a flawless camera screen back.
Tailor-made for enclosures: please find the exhaustive list at the end of the page
- Super protective: anti-aging, dust, condensation, scratches, shock, collision
- Easy installation
- Unconstrained: this protector retains the touch and an ultra-clear vision
- Ultra-resistant: 8/10 Mohs scale. (12kg / cm2 in lab test)
Starblitz created a new range of cameras accessories to protect your camera screens.

Choose our custom-made screen protectors, the Starblitz SC line

How can we explain the difference between our product and the screen protectors already existing on the market ?

Our screen protector is custom-made, meaning is made for a particular camera model. Customized to its size, dimensions, ergonomics. On the market, you can find standard size screen protectors. But you can find adhesion problems with them, because universal screen protector has its limits. The best is to have a personalizedscreen protectors like the Starblitz one.

Many competitive advantages

It is a great protector for the back of your DSLR or hybrid screen.

Easy installation

How many users do you know who has failed to install correctly the protective film by leaving air bubbles or by not properly fitting the back of the DSLR ? Now, with our screen protector there is no more complications. You have all the elements to easily succeed when you lay down your protective film.


To extend the life of your hardware

Perfectly suited for professionals who wants a protected camera, keeping it in a perfect condition.

In general, this screen protector makes it possible to extend the life of your DSLR while avoiding any disappointment. A reflex camera back screen could cost more than 100 euros. The price compared to our screen protector is derisory compared to the cost of a repair.

A high-tech, laboratory-tested product

The protective film consists of 6 layers, including an ultra-thin 0.3 mm glass.

Increased resistance : the product is resistant to a pressure of 12kg / cm2 and displays a score of 8/10 on the Mohs scale.



List of tailor-made compatibilities :
SCCAN1
5D III, 5Ds, 5Dsr, Pentax K
SCCAN2
5D IV
SCCAN3
7D Mark II
SCCAN4
650D, 700D, 750D, 760D, 800D
SCCAN5
100D, EOS M3, EOS M10, G1X II
SCCAN6
EOS 6D
SCCAN7
70D, 80D, 90D
SCCAN8
EOS R, EOS M5
SCCAN9
G1X III, G5X, G5XII, G7X, G7XII, G9X, G9XII
SCNIK1
D810, Pentax 645D
SCNIK2
D7100, D7200
SCNIK3
D750, D780
SCNIK4
D500
SCNIK5
D5, D6
SCNIK6
Z6, Z7
SCNIK7
D7500
SCNIK8
D5600, D5500, D5300
1250023
Z50
SCFUJ1
X-T10, X-T30, X-T20, X-E3, X-T100
SCFUJ2
X-E2, X-E2s, X-100T, X-100F, XA2
SCFUJ3
X-T1, X-T2, X-A3, X-A5, X-A10, X-A20
SCFUJ4
X-PRO2
SCFUJ5
X-T3
SCFUJ6
X-H1
SCFUJ7
GFX-100, GFX-50S, GFX-50R
SCFUJ8

X-T30

SCFUJ9

X-A7

1250022

X-T4, X100V

, 

XPRO3

SCOLY1
E-M1, E-M10, E-P5, E-M5II
SCOLY2
EM1III, EM1II, EM1X, E-M5, EM5III, E-M10II, EM10III
SCPAN1
GH5
SCSON1
A7, A7 II, A7R II, A7S II, A7rIII, A7III, A7rIV, A9, A9 II, RX1, RX10, RX100, RX100VI, RX100VII
SCSON2
A5000, A5100, A6000, A6100, A6300, A6400, A6600
SCUNICAM
For 4:3 / Canon 7D
Did you find the screen protector you need ? If it is not the case, feel free to contact us.
No customer reviews for the moment.
Customers who bought this product also bought: