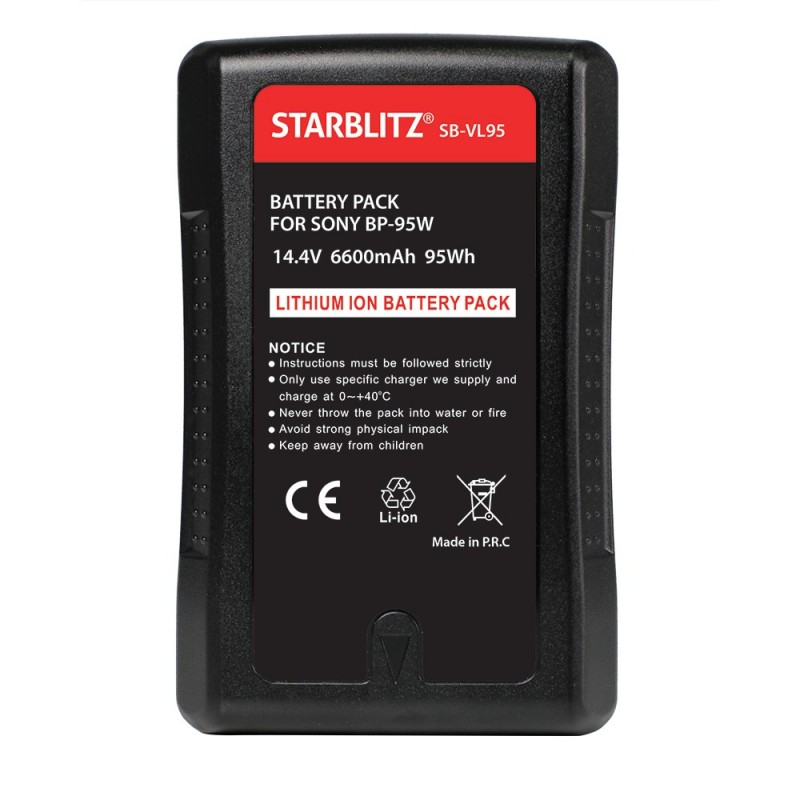  
SB-VL95 V-Mount battery 95Wh
SB-VL95 Battery Mount V or "V-Mount" with USB output and D-TAP
Voltage 14.4 v X Amperage 6600 mAh = Capacity 95 Wh
Cameras: Sony HDW, PDW, DSR, PXW cameras or V-base cameras
Can also be used as external power source for many accessories such as LED video lights, Ninja Atomos.
Works with Sony cameras: HDW, PDW, DSR, PXW
Or any other adapted V-mount camera.
Example: RED EPIC / Scarlet
Can also be used as an external power source via Starblitz SCHVL or in USB mode or in D-TAP mode for accessories such as LED video lights, Ninja Atomos.
Available in 3 power configurations: 95W (6600 mAh), 150W (10400 mAh), 190W (13200 mAh).
---
PRECAUTIONS / FAQs of the full range of V-Mount batteries

How to avoid a risk of electric shock with a battery?
Our advice: in case of problem, contact us before any manipulation.
Do not remove cover, no user-serviceable parts inside the product.
Always check the condition of the cables before switching on. Damaged cables can cause injury and / or equipment damage.
Do not exceed the current output limit of the product when feeding auxiliary devices.
Do not drop, puncture or crush battery. Do not use the battery if the case is damaged or broken. Do not open or attempt to service this battery if damaged.
These electronic devices can be damaged if the battery is subjected to abuse or damage. Do not use a battery that has been subjected to excessive mechanical shock or water damage.
Warranty: 2 years or cycle of 1000 loads.
Installation of unapproved parts or accessories, or modifications or maintenance may be dangerous and could affect the safety of the product. It may also invalidate the terms and conditions of the product warranty.
Never attempt to repair this battery yourself. Return the product immediately to your dealer / distributor. Consult the list on our website: www.starblitz.fr or contact us via the form.
What ambient environment for a V-Mount battery?
Our advice: remove from any source not compatible with an electrical product.
Never use flammable or combustible products, materials and solvents around batteries or chargers.
Protect the product from water, moisture and dust. The presence of electricity near the water can be dangerous.
How to clean a V-Mount battery? Or maintain a battery mount V?
CLEANING, our advice: weekly dry.
Periodic cleaning of both charger terminals and battery terminals to ensure proper operation.
Weekly or as needed - Clean the unit, components and accessories. Do not wet the exposed metal part of the battery contacts. Do not use solvents or abrasives.
ATTENTION to the regulation air transport: lithium ion batteries and dangerous goods.
Any lithium ion battery is subject to precise regulation by the ATA, International Air Transport Association, ICAO International Civil Aviation Organization and its consequences for each company.
Several cases:
Batteries <160 Wh: transport cabin authorized if connection devices (technical documentation if necessary).
Batteries> 160 Wh: mandatory freight transport - specific declaration with technical documentation of the product.

Data sheet
MPN

SB-VL95

EAN

3760173050864

Warranty

3 years

Voltage

14.4v

Ampere-hour

6600maH

Wh Density

95 Wh

Product type

Battery
No customer reviews for the moment.