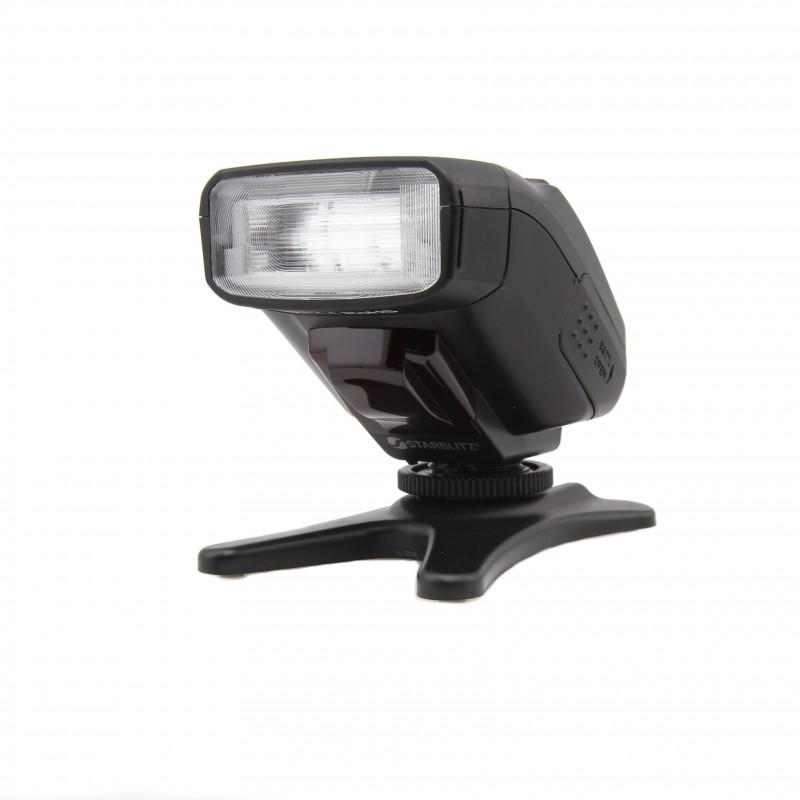  
SWAN27 Speedlite Flash working for Canon or Nikon
Mini flash for beginners photographers who want to go further than with their embedded flash DSLR.
NG = 10 to 12 for the embedded flash DSLR. Double your guide number by equipping you with a SWAN27!
- Removes red eye
- Creates soft shadows
- Can be controlled remotely
- Allows to use it as indirect light thanks to its pivoting head. (Vertical axis)
Main features of speedlite flash  Starblitz SWAN27:
Guide Number: 27 (ISO 100, meters)
Flash coverage: Same wide-angle EF 28mm
Effective flash range (with EF 50mm f / 1.4) at ISO 100) 0.7 to 19.3 m (flash rapidly: from 0.7 to 11.1 m)
Exposure Control System: Manual flash
Batteries: Two AA alkaline batteries
Charging time: About 0.1 to 4 seconds (fast flash: about 0.1 to 2.6 s)
Life Battery: Between 100-680 flashes (depending on power)
Dimensions (W x H x W): 42 x 64 x 97 mm
Weight: Approximately 100g (without batteries)
Available version: Canon, Nikon
Double your guide number by adopting the SWAN27
You have reached the limit of the potential offered by the flash of your DSLR and you want to take advantageof an additional light source when you need to. The flash cobra SWAN27 will allow you to take pictures that you never realized before.
Improve your portrait pictures
This flash allows you to capture the light and operate new schemes.
Use light from a different axis from your camera
- In deported (to be combined with a remote flash trigger, such as Starblitz Lotus)
- In indirect light
Learn how to "fill-in"
A cons day, unclog the subject with a light hand SWAN using your flash.
No customer reviews for the moment.