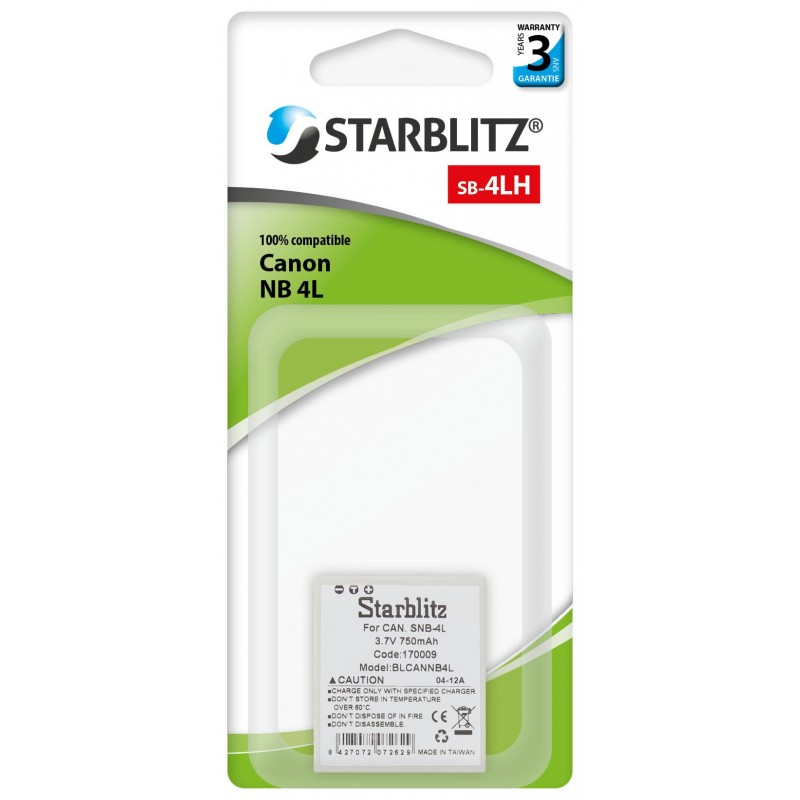  
Rechargeable Lithium-ion Battery to replace Canon NB 4L
Canon NB 4L equivalent Lithium-ion rechargeable battery.
Voltage: 3.7v
Ampere-hour: 750 mAh
Density-hour: 2.7 Wh
Compatible with the series: Digital Ixus ...
For specific models, find the complete description below.
Canon NB 4L equivalent Lithium-ion rechargeable battery.
Voltage: 3.7v
Ampere-hour: 750 mAh
Density-hour: 2.7 Wh
Compatible:
Canon Digital IXUS 100 IS, 110 IS, 120 IS, 30, 40, 50, 55, 60, 65, 70, 75, 80 IS, i Zoom, Wireless
Canon IXUS 117 HS, 130, 230 HS, 255 HS
Canon IXY 210F, 410F, 610F, 620F
Canon IXY Digital 10, 20 IS, 40, 50, 510 IS, 55, 60, 70, 90, L3, L4, WIRELESS
Canon LEGRIA mini
Canon PowerShot TX1
PowerShot ELPH 100 HS, 300 HS, 310 HS, 330 HS, SD1000, SD1100 IS, SD1400 IS, SD200, SD30, SD300, SD40, SD400, SD430, SD450, SD600, SD630, SD750, SD780 IS, SD940 IS, SD960 IS
Canon VIXIA mini
Original battery against generic battery?
This Starblitz battery offers compatibility for the camera models above. However, depending on the firmware updates of your device, it may happen that your battery is not recognized by your case. The list of devices shown is indicative.
It is not a counterfeit but a generic battery. Starblitz offers a different product with a specific cell and product specifications.
Starblitz clearly establishes its offer, unambiguously confusing to the consumer
It's up to you to judge the performance of our battery offer.
CIPA battery instructions: HTTP://WWW.CIPA.JP/BATTERY/INDEX_EN.HTML
Starblitz Batteries Safety Review
Our batteries are tested in the laboratory against the risk of precaution: explosion, overheating, exhaust gas.
All our batteries have a circuit breaker.
Our batteries are also tested to ensure charging and discharging cycles. For good overall performance and increased durability.
3 year limited warranty
Starblitz, a brand operated by World Accessoire, guarantees the end user that the product will be in working order for a period of three years from the date of purchase. The mark Starblitz can not be held, in any case, responsible for an amount exceeding the value of the article. In the case of a return, Starblitz undertakes to replace the item or to refund it.
The Starblitz battery warranty does not cover:
- a decrease in operating time
- batteries without proof of purchase
- batteries which do not comply with the safety instructions
Recycling and eco-responsibility
All our batteries include the following logo:
Lithium-ion batteries contain lithium. Once your life cycle is over, you should not judge this type of waste anywhere. Here are some collection points where you can recycle your batteries and give them a second life.
Collection points:
SCRELEC: HTTP://WWW.SCRELEC.FR/POINTS-DE-COLLECTE/INDEX.PHP?DEPARTEMENT=01
COREPILE: HTTP://WWW.COREPILE.FR/CARTE-DES-POINTS-DE-COLLECTE/
No customer reviews for the moment.