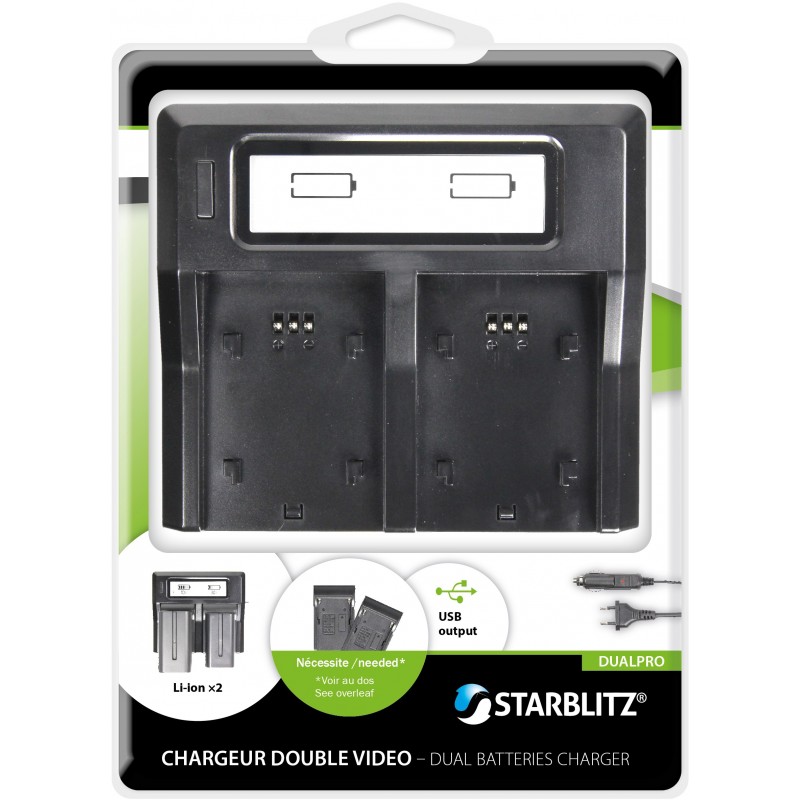  
Charger for two video batteries working with plates
Charger for video batteries (x2) working with plates*:
- An economical solution for all videographers and photographers
- An eco-responsible solution
What's in the box? Charging base, power cable, USB cable
* load plates sold separately
DC: charge through car charger (12-24V 3000mA min)
AC: charge through wall (100V-240V 50/60Hz )
USB: USB charge (5V 2100mA )
DC output: 8.4V/12.6V/16.8V 
Box content:
- Charger device
- USB cable
- AC cable
Why purchase this product?
An economic solution for videographers. The double load allows you to save time once one started shooting.
An eco-friendly solution. If you change equipment, obsolesence is over. All you need to replace is your load plate. Competitive products for specific battery becomes of no use.
How to use the DUALPRO?
1) Connect to a power source charger
2) Install the plate corresponding to your battery. Without the charging plate corresponding to your battery, you will not be able to use the DUALPRO. You can consult the list of plates available on our website: https://starblitz.fr/en/recherche?orderby=position&orderway=desc&search_query=plaque+de+charge&submit_search=
3) Install the battery
No customer reviews for the moment.
Customers who bought this product also bought: