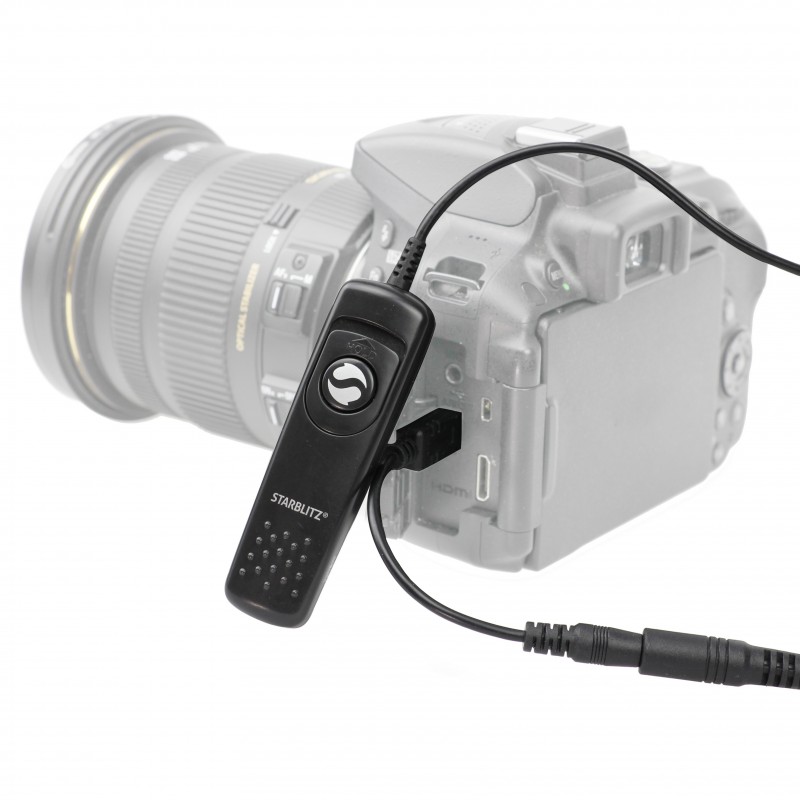  
Wired Remote Control Mecano II
New version with a cable compatible with Sony α7 Series.
Starblitz Mecano II is a wired remote control for Canon, Nikon DSLR and Sony α7 Series.
Cable range : 100 cm
Wired Starblitz Mecano II trigger with a cable range of 100 cm
How to use it ?
First, connect your remote control to your camera.
In a very easy way, you make a half-pression on button to make the focus and then a full pressure to shoot. And, that's it.
Thanks to this trigger, you never miss pictures.
Whether you are outdoors or in a studio, you can carry it anywhere. Compact, it will rank easily in a pocket of your camera bag and you will be free to use it when you feel the need.
Do not waste time with fuzzy shake.
For architectural or landscape photographers wishing to use a slow shutter speed. How many pictures have you missed due to a wrong move ? The Starblitz Mecano II prevents vibration that the photographer can create when pressing the shutter button.
This Starblitz Mecano II remote control is compatible with all Canon, Nikon DSLR and Sony α7 Series.
For other brands, you must purchase an additional cable. Please refer to the list for more details.

Data sheet
MPN

SRC-Mecano

EAN

3760173044009

Warranty

1 an

Eco-Participation (DEEE)

0,0084€

Product type

Remote control
No customer reviews for the moment.
Customers who bought this product also bought: