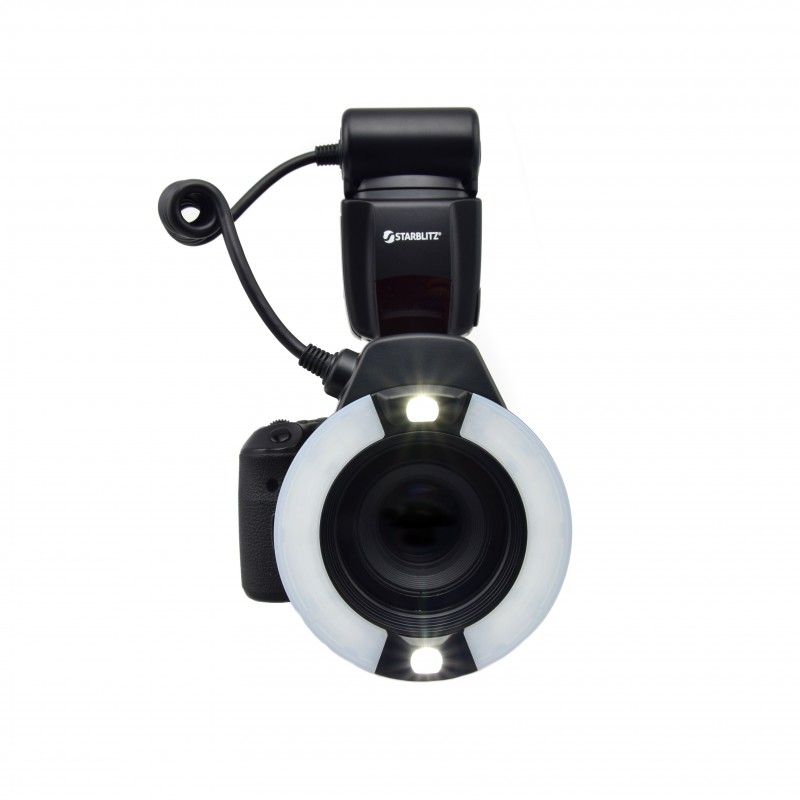  
Macro Ringflash GN 14 Canon or Nikon
Macro Ring Flash composed of two tubes, which can be operated together or individually.
- GN: 14
- Lighting angle: 80 degrees vertical and horizontal
- TTL flash offers technical features similar to MR-14EX.
Perfect for dental photography (with a polarizing filter *)
Main Technical Features of the ring flash SWAN14
Number of guides: 14
Lighting angle: 80 ° horizontal and vertical
Composed of 2 tubes, which can be operated together or separately.
TTL: both version Canon or Nikon are TTL.
Equipped with a LCD screen, to define its own settings.
Exposure compensation (-3 EV / 3 EV)
Color temperature: 5500K
Charging time: less than 5 seconds
Power: 4 AA / LR6 batteries (Canon version, compatible with Canon CP-E4)
Weight: 380g
Dimensions:
| | |
| --- | --- |
| Control unit | 135*71*61mm |
| Flash | 136*118*29mm |
When to use a ring flash and for whom?
This flash is especially designed for dentists.
Dental macro improves the results of cosmetic dentistry.
Combined with a macro lens, you can get nice "before and after" images.
Intraoral picture requires additional lighting hence the value of using a ring flash.
* You can add a polarizing filter sold by one of our partners: http://www.photo-medicale.com/commerce/filtre-polarisant-photo-medicale/73-polarisant-photo-medicale-r1.html
The PHOTO MEDICALE polarizing filter is a filter compatible with our ring flash. Cross polarization makes it easy to remove unwanted reflections on teeth caused by flash. These reflections can obscure the details of the teeth and cause problems when you need to give info to the lab.
Ring flash for portrait
This type of flash is also very popular with fashion and beauty photographers
It allows to create a circle of light in the eyes of the model.
Another possible use: macro insects or plants
No customer reviews for the moment.