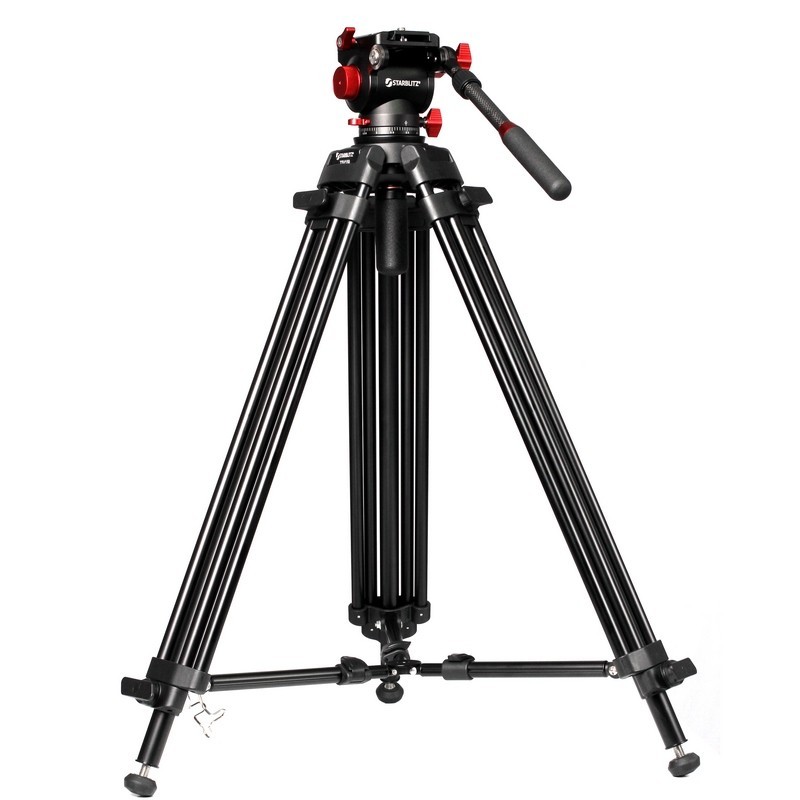  
Video tripod kit
Take video like a pro with the Starblitz TSV150!
Kit video tripod double leg composed of:
- Tripod double leg with rubber tip or/and steel tips, with 75mm bowl.
- Fluid video ball head with left handed / right handed reversible handle, long quick coupler plate (10 cm), panoramic graduation
- Adjustable mid-height spacer
- Transport bag
The idea of this tripod has been to make the price of professional solutions affordable to the general public. With the advent of YouTube and streaming channels like Twitch, many people need to be equipped to provide their community with high definition (HD) quality images. This is the essence of this Starblitz TSV150, solid specs, an affordable price. Guaranteed result: you will make video like a pro!
Lesson # 1: Adapt yourself to all situations!
 3 sections double leg with butterfly lock
 3,66 kg
 10 kilos
 Maximum height 160cm
Lesson # 2: Get yourself into position!
Outer spikes steel / rubber inner end
Adjustable mid-height spacer
The spacer settings allow you to separate or tighten the legs of the tripod according to your needs.
Quick locking of sections with butterfly system.
To save time, it will be very easy to deploy your tripod and put it away.
With its carrying case, you'll travel with your Starblitz TSV150 video tripod anywhere for any occasion.
Lesson # 3: Control your movements from a smooth ball joint!
The head is stalled in space. Angle of 15 ° with the short grip.
Tilt
Panoramic Pan 360°: the graduated scale will allow you to find your way around the space.
Tilt: Forward tilt + 90° Rear tilt -60°.
Bubble level: The spirit level will show you if the surface is level. In which case you can adjust. 
Lesson # 4: Express your creativity!
Once the bases of control crossed, you will be able to become the operator of your desires. You are free to determine the framing, that is to say the movements and angles of shooting. If you want to share your experiences with Starblitz products. Feel free to send us by comments your Youtube / Vimeo channel.
Questions answers:
What type of cameras this tripod can stabilized ?
Reflex, PMW cameras, RED cameras (EPIC, Scarlet), Arri Alexa.
Can I buy the head separately?
This product is sold as a kit. However, it is possible to buy the head separately: STV02. As well as the handle: SP01STV02.
How many screws are supplied with the Starblitz TSV150 tripod attachment?
This tripod video kit contains 2 screws. They are both integrated in the head. The first is at one of the two handles (right / left). The second is on a side facade of the head.
No customer reviews for the moment.