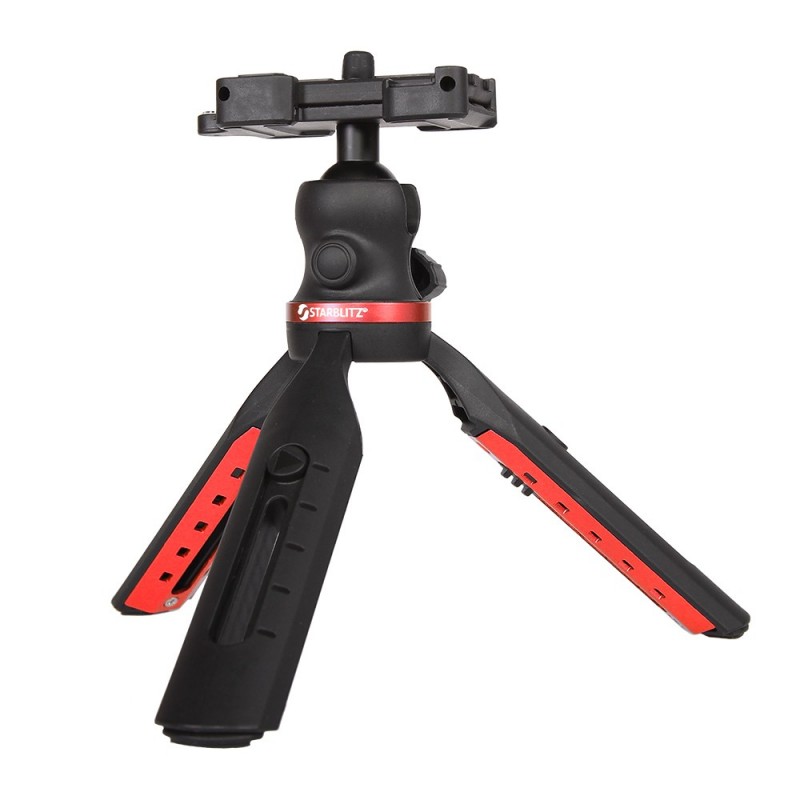  
Mini tripod 5 stops Pan 360 Tilt -90 degrees
Mini-tripod with 5 positions
Extension 16-19 cm
Loaded weight: 3 kg
Integrated ballhead for both devices: smartphones and cameras
Perfect for vloggers !
Starblitz ALP: Mini tripod
A complete product evolution
From 2 positions, we move to 5 positions. Following the success of the HELIX, Starblitz decided to decline and expand its range of mini-tripods with this new model 2020: ALP.
From 750 g supported, we go to 3 kg supported. An improvement of the patella with a bi-holder attachment provided.
2 in 1 combo for smartphones and cameras
The ALP supports up to 3 kilos (vertically). Enough to support any smartphone, compact camera, bridge, hybrid, or SLR.
For fixing the camera, it is presented with a universal 1/4 photo thread.
For smartphone attachment, you need to insert it into the vice, which unfolds from 5.8 cm to 9 cm. Compatible smartphone. So the size is: 5.8 cm-9 cm.
A super well designed mini tripod head
The ball head, like a conventional tripod ball head, can be oriented in different ways. For this, there is a clamping latch on the side. You just need to tighten or loosen to be able to move until you want.
360 degrees panoramic. At -90 degrees vertically, for the portrait for example.
The ball head of this mini tripod also has a spirit level.
Can ALP be used anywhere? Yes
This mini tripod can be used both indoors and outdoors.
Indoors, you can use it as a table tripod. For family photos, you can put it on a furniture or on a table.
Outdoors or when traveling, your photo equipment will be safe, at a reasonable height from the ground. So potentially far from mud, sand, puddles. The materials used (ABS, aluminum, rubber pads) make it a non-dirty or easy to clean support.
Swiss vlogger knife
By offering a version for both smarpthones and cameras, this mini tripod will seduce the vlogger to make beautiful video recordings. Space-saving, it can be stored anywhere with a weight of 256 g. Imagine. Just unfolded, all you have to do is press the red save button.

Data sheet
MPN

ALP

EAN

3760173051724

Weight (g)

256 g

Max height

19 cm

Hauteur min.

16 cm

Number of sections

5

Warranty

2 years

Tripod Head Kind

Ballhead

Product type

Tripod
No customer reviews for the moment.
Customers who bought this product also bought: