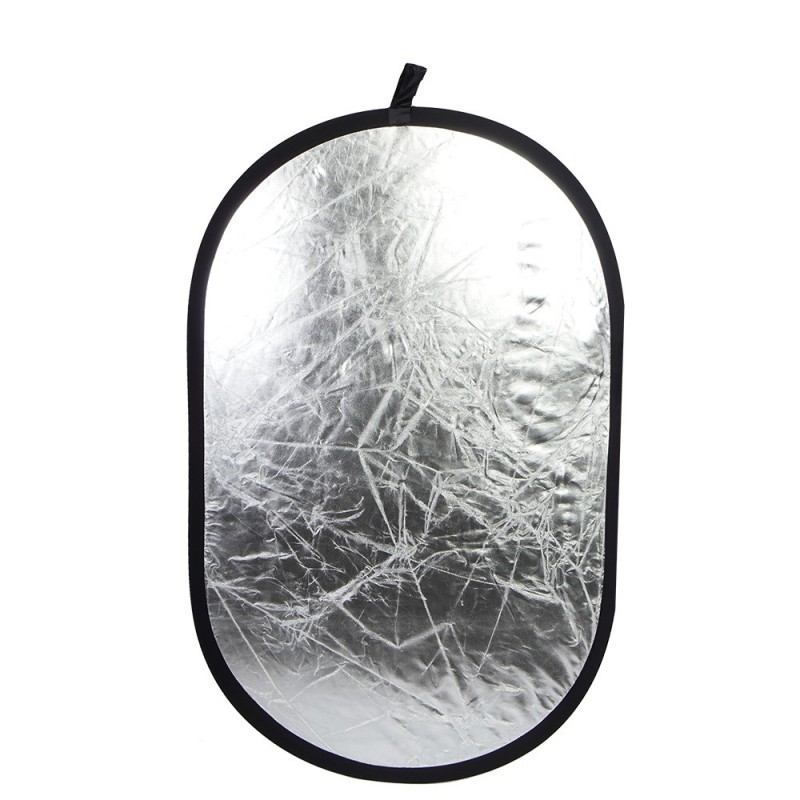  
Oval reflector panel 71 x 112 cm Silver and Gold
Foldable 2-in-1 oval reflector panel
2 sides: Silver and Gold
Dimensions: 71 x 112 cm
Weight: 46.6g
Allows you to uncover shadows to give more relief or compensate for lack of light
Carry bag included
A portable reflector panel
An indispensable accessory for portrait, fashion or professional photographers that allows you to uncover shadows.
The reflector can be used both indoors and outdoors. It is recommended to use it when there is too much white light on a subject. The reflector will help reduce reflected light.
Size when unfolded: 71 x 112 cm
& folded: 36 cm ⌀
Speed and Practicality

With a simple movement to extend the panel, it unfolds automatically. The reflector frame is made of high-strength elastic nylon for easy folding and storage.
In addition, because of its ultra-lightweight material (46.6g), you can easily take this accessory with you on your shoot.
A 2 in 1 accessory
The reflector consists of two faces of different colours: silver and gold.
The silver and gold coatings produce a harder, more directional light.
Silver is often used to reflect cold light while gold reflects warm light.
To achieve a beautiful portrait, it is essential to make good use of ambient light.
The Starblitz reflector panel is an ideal photo accessory for learning about lighting.
Carrying bag included
No customer reviews for the moment.