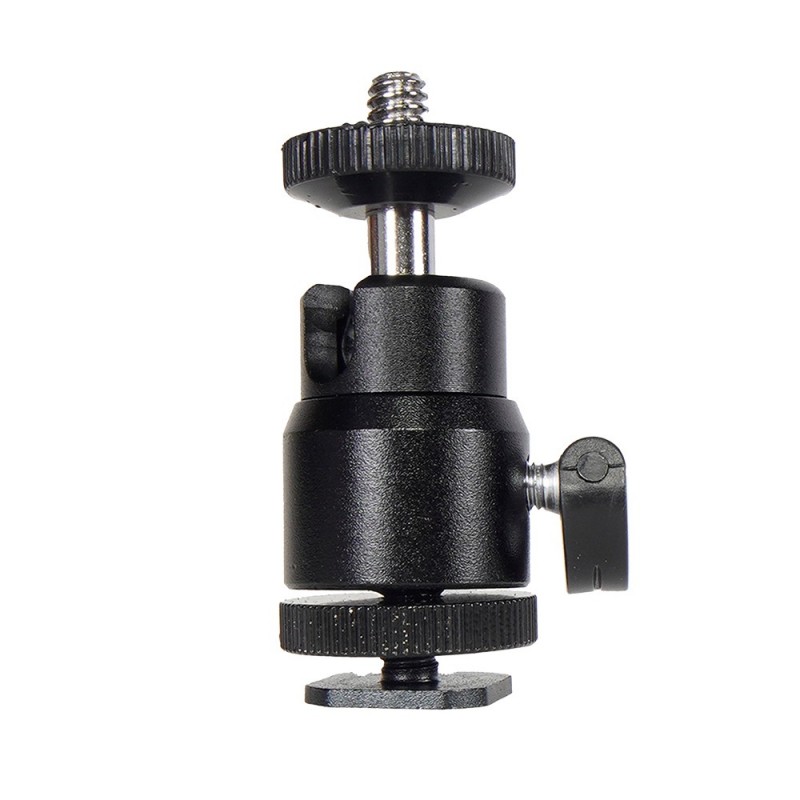  
Mini ball head capacity 2 kgs to be fitted on flash shoe
Quick-attach hot shoe ball joint
360 ° panoramic functionality; tilt -90 ° / +45 °
1/4 screw
Height 6.5 cm
Supports up to 2 kg
Allows the attachment of many devices (monitors, flash, smartphones ...)
This Starblitz ball head can be fixed or embedded on the flash grid of a camera or on any location offering a mounting of the flash shoe type.
The adapter can be attached between a camera and an external monitor, a mini LED projector or even on a ring (ball joint sold in the SRINGLED480 + kit).
The ball joint is rotatable 360 degrees. After attaching the ball head to the camera, you can find the angle you like (for example: portrait mode). To make sure everything is not moving, the appropriate screw must be tightened sufficiently. That's why we can say that this mini-ball head offers a 360-degree pan.
The load supported by the ball joint is 2 kg. What can we fix there? Any device offering a 1/4 female thread.
- An offset monitor
- An LED lighting monitor
- A mic
- A flash
- A compact, hybrid or entry-level reflex camera
The aluminum alloy gives the product : a quality and solid appearance.
No customer reviews for the moment.
Customers who bought this product also bought: