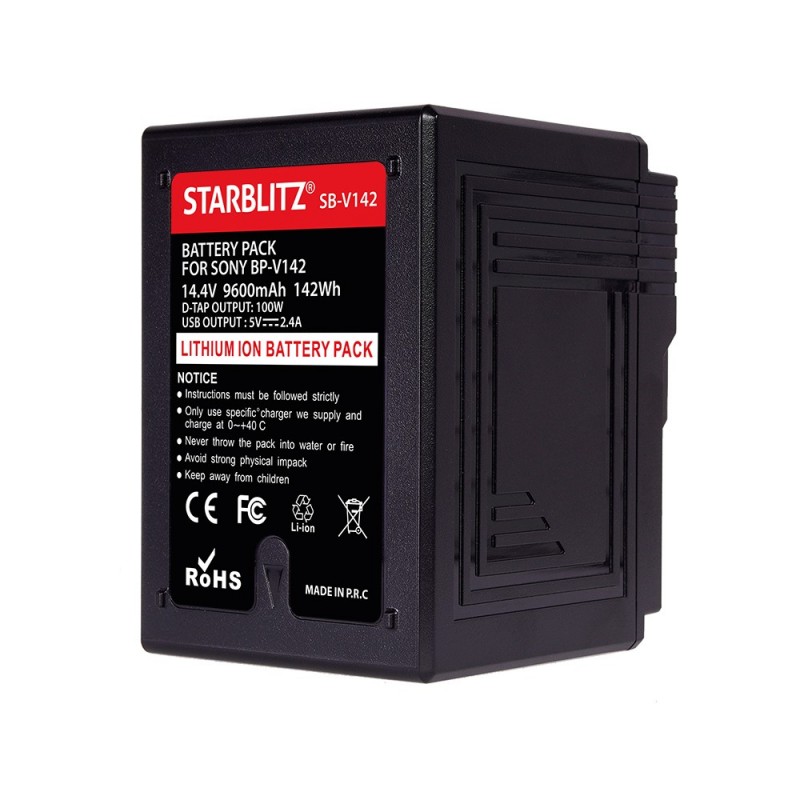  
SB-V142 Micro V-mount battery with USB output and D-TAP 142Wh
SB-V142 Micro V-Mount or V-Mount Battery
- USB and D-TAP output
- Voltage 14.4 V / Amperage 9600 mAh / Capacity 142 Wh
- LEDs indicating the remaining charge capacity
- Integrated flashlight
- External power source for many accessories
- Devices: Sony HDW, PDW, DSR, PXW cameras or cameras with V-base
Micro V mount battery: 142 Wh

This battery is more compact than conventional V-lock batteries, Micro V-mount batteries work with Sony cameras: HDW, PDW, DSR, PXW or any other suitable V-mount cameras.
Example: RED EPIC / Scarlet
Micro V-mount batteries can also be used as an external power source via the Starblitz SCHVL dual battery charger or in USB mode or D-TAP mode for accessories such as LED video torches, Ninja Atomos.
If you want to use two V-lock batteries, you must use our adapter for Micro V-Lock batteries: 1250029. This allows you to enjoy your camera without breaks.
Bonus:
- you have a slot for a D-TAP bidirectional cable. This allows you to connect the cable on one side or the other
- on the back of the battery you can find a mini flashlight which, when used in poorly lit places, allows you to connect the battery without any problems. Just press the capacity check button for 2 seconds to turn it on or off.
There is another power configuration: 95 Wh
USAGE PRECAUTIONS / FAQs for the entire V-Mount battery line

How to avoid the risk of electric shock with a battery?
Our advice: in case of problem, contact us before any manipulation.
Do not remove cover, no user serviceable parts inside the product.
Always check the condition of the cables before switching on. Damaged cables can cause personal injury and / or damage to equipment.
Do not exceed the current output limit of the product when powering auxiliary devices.
Do not drop, puncture or crush battery. Do not use the battery if the case is damaged or broken. Do not open or attempt to service this battery if damaged.
These electronic devices can be damaged if the battery is subjected to abuse or damage. Do not use a battery that has been subjected to excessive mechanical shock or water damage.
Guarantee: 3 years *
* cells are covered by a one-year warranty, or 70% of original capacity.
The installation of unapproved parts or accessories, or the making of modifications or maintenance can be dangerous and could affect the safety of the product. It may also invalidate the terms and conditions of the product warranty.
Never attempt to repair this battery yourself. Return the product immediately to your dealer / distributor. Consult the list on our website: https://starblitz.fr/en/ or contact us using the form.
What ambient environment for a V-Mount battery?
Our advice: keep away from any source not compatible with an electrical product.
Never use flammable or combustible products, materials and solvents around batteries or chargers.
Protect the product from water, humidity and dust. The presence of electricity near water can be dangerous.
How to clean a V-Mount battery? Or maintain a V-mount battery?
CLEANING, our advice: dry weekly.
Periodic cleaning of both charger terminals and battery terminals to ensure proper operation.
Weekly or as needed - Clean the device, components and accessories. Do not wet the exposed metal part of the battery contactors. Do not use solvents or abrasive agents.

Data sheet
MPN

1250030

EAN

3760173050871

Compatible with

Sony

Warranty

3 years

Voltage

14.4v

Ampere-hour

9600 mAh

Wh Density

142 Wh

Product type

Battery
No customer reviews for the moment.