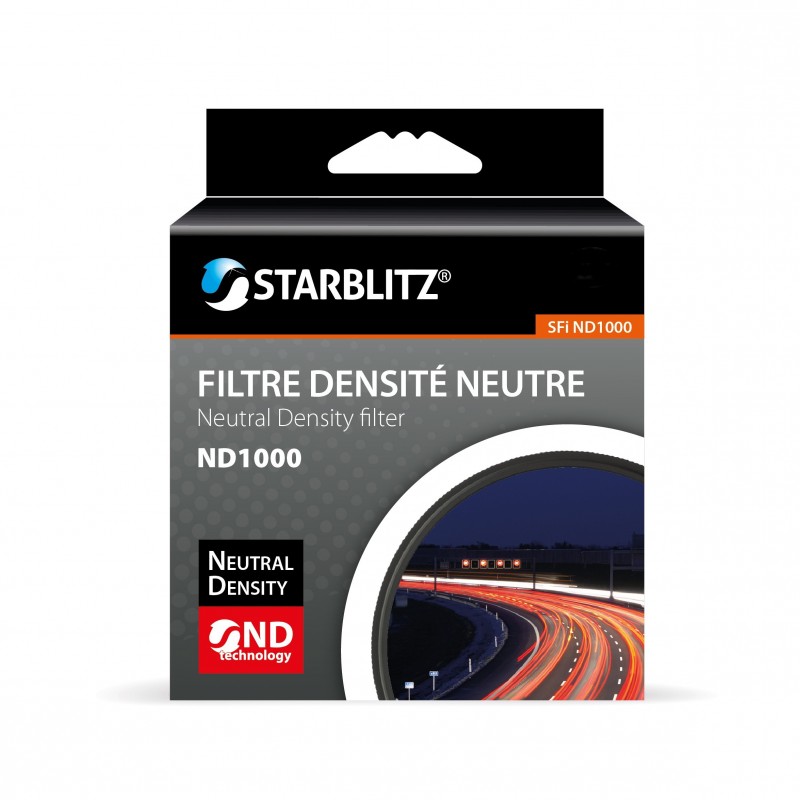  
ND1000 Neutral Density Filter
ND1000 Neutral Density Filter, from Starblitz SFIND series, is THE filter that allows you to make extra-long exposures.
Huge difference of 10 diaphragms
Transmittance: 0.0976%
ND1000 Neutral Density Filter
Circular screwing filter commonly called fixed ND (neutral grey).
ND1000: where the variable ND2-ND400 stops, you can opt for the ND1000.
To check the filter size you only need to look at your lens user guide or otherwise, to read the size indicated on the lens barrel (Example: 49mm, 52mm, 55mm, 77mm).
Perfect for extra-long exposures
This filter works with a tripod and a programmable remote control (for example, Starblitz SRC-Frequencia).
Neutral density filters are for experienced photographers who already know about the exposure time, and with a complete gear (tripod + remote control).
For what kind of photo?
Do you want to express your creativity using a fixed neutral density filter?
You could for example shoot:
- A waterfall, river, sea.
- An urban scene with cars.
- A place where you want to erase bystanders (eg Times Square).
You can share your photo that you have taken with one of our ND filters with us on our social media #Starblitz #SFIND.
Competitive prices
A great filter on the market in terms of quality-price ratio among following brands: Hoya, B + W, Light Craft, Heliopan, Tiffen, Haida, Lee Filters, Nisi. Compare it out !

Data sheet
Filter type

Neutral Density

Product type

Filter
Specific References
ean13

3760173049066
No customer reviews for the moment.
Customers who bought this product also bought: