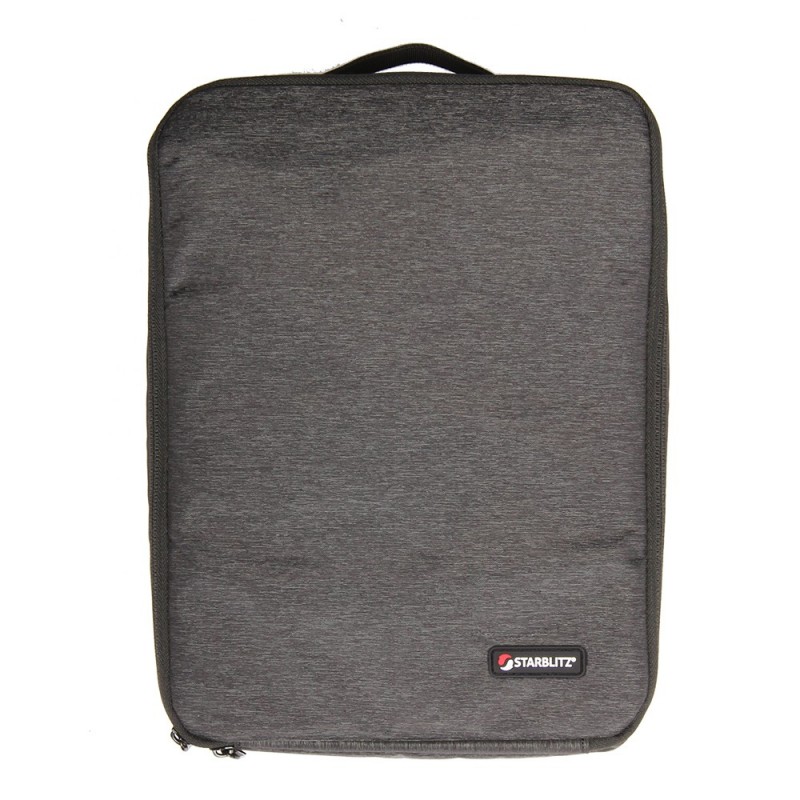  
Photo insert for bag INSERTO220
Insert with water-repellent coating
Ext. dimensions 240 x 310 x 130 mm
Compartment can be equipped with several dividers
Possible configuration 1 body + 3 lenses
Volume 9.67 L
100% side opening
3 modes of transport: handle, trolley loop, shoulder strap
Why the Inserto range at Starblitz?
What are inserts for camera equipment? It is a device that fits into another existing luggage: bags, rigid and/or flexible suitcases, cases, boxes. 
Think again the photo bag and its journey: minimalism goal !
Traditional photo bags often have 100% of the space dedicated to photo equipment. With an insert configuration, you have the possibility to split an existing bag with a small part dedicated to your photo equipment, 5 to 10L depending on the chosen model. The constraints of traveling lighter, less bulky in volume, less numerous in terms of luggage via "low-cost" airlines are very present. An insert responds to this constraint of weight, volume and number.
Convert your bag into a photo bag
You've watched several video tutorials, DIY videos, you've even typed the question on Google= how to turn my bag into a photo bag? Inserto, a ready-to-use solution.
Inserto = incognito
Another example of the application of the insert, told by our community: travelling incognito. Photographing in a favela with a branded bag is almost impossible. You bring to much attention by displaying logos of known material, you show that you have valuable objects in your bag. The opposite is possible with an insert. The insert contains all your material, secured in a bag without an external display.
There, you know the origin of the Starblitz Inserto. If you have your own stories to tell / share on social networks, please feel free to tag us (IG: StarlitzPhoto) // Facebook.
A large choice of photo material combinations with an insert
There is a whole range of cameras: APS-C, hybrid, full-format SLR. With as many possible combinations on the brands: Canon, Nikon, Fuji, Sony, Pentax, Olympus, Panasonic... The same goes for the lenses. So it would be impossible for us to list your exact hardware configuration. However, in order to guide you as well as possible in your choice and to give you advice on what size to choose, we have established a summary diagram, with volumes, sizes, number of dividers, and possible configurations on the 3 main categories of cameras.
To be 200% sure, we invite you to go and test in one of our partner resellers.
You still have a doubt? Do not hesitate to contact us: our CM will be pleased to answer your question.
Inserto in action!
The entire range of Inserto bags have the same features to make your travels easier, namely 3 modes of transport.
If we recap,
- Handle
- Trolley loop
- Shoulder strap
The shoulder strap allows you to use it as a more conventional shoulder bag.
The concept of Inserto bags is protection and safety as standard
Just because the inserts act as a second protective envelope, a second skin for your photographic equipment, it doesn't mean that we at Starblitz have any reservations about the quality of the materials used to make them. We're not going to make a big deal out of it on the lexicon... Simply in a few words: 400D water-repellent fabric, YKK zipper, padding, scratch-resistant inner lining and quality control. We think the most important thing is that you believe in our products and we leave it to you to judge for yourself.
The declination of the Inserto range
The Starblitz Inserto range of inserts is available in 4 different sizes:
INSERTO190, Ext. 200 x 150 x 80 mm, 2.40 L, material bag: cables, batteries, plugs, memory card ...
INSERTO200, Ext.dimensions 220 x 210 x 150 mm, 1 housing + 1 lens, 6.93 L, top opening like a gun holster
INSERTO220, Ext.dimensions 240 x 310 x 130 mm, 1 body + 3 objectives, 9.67 L, opening on the side 100%
INSERTO330, Ext. 330 x 220 x 160 mm, 1 body + 4 objectives, 11.61 L, top load opening

Data sheet
Collection

INSERTO

MPN

1250004

EAN

3760173052240

Dimensions (WxHxD) in mm

240 x 310 x 130

Width (mm)

240

Height (mm)

310

Depth (mm)

130

Warranty

2 years

Outer

6

Number of separators

3

Couleur

Grey
No customer reviews for the moment.