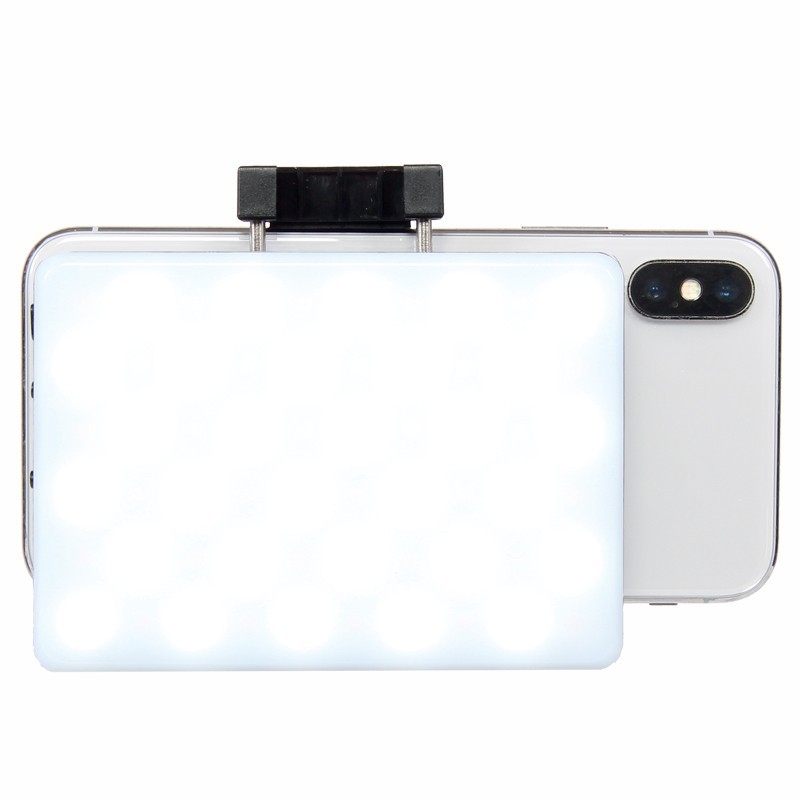  
60 LED light panel compatible with smartphone and camera
The SVLED60 is a light panel for video or photo shoot with LED. You can easily fit it into your smartphone or your camera. It allows you 3 different positions to use with accessories included.
The light panel is used when you need continuous adaptation to light or when there is very few light. At the end, your video or picture will be brighter and you will find a better quality on them.
SVLED60, the accessory that will lights up your shots
It is a product create for amateur photographers and videographers like vlogger. With the idea of better light quality on their video or photo shoot.
Thanks to an elegant and compact design, the SVLED60 will need few space in your bag.
It is an essential photo accessory for your smartphone...
You can use it in photo mode thanks to the clip, as the example below :
Or in selfie mode thanks to this other kind of clip :
...and for your camera !
To use it with a camera, just screw it on top of the camera.
These 3 accessories are included in the kit. With them, the product will be used at its best.
Thanks to the SVLED60, you can change :
- change the color temperature of the light panel (cold and warm color and double color mode)
  or
- change the intensity
SVLED60 features :
- Dimensions : 92 x 45 x 237 mm
- 60 LED (30 unit - 5600K cold color; 30 unit - 3200K warm color)
- Color temperature: cold and warm color and dual color mode
- Brightness range: 10 levels (10% - 100%)
- Maximum brightness : 250 LUX / 0.5 m
- CRI*: >95
- Operating time : 2 hours at full power
- Charging time : 3 hours
- Weight : 139 g
- Integrated Micro-USB and Type-C port
- Graduation system indicating the remaining battery level on the back of the product
- Number of LED's : 60 (30 x cold light and 30 x warm light)
- The SVLED60 is rechargeable by Micro-USB port or by Type-C
Compatible devices :
- Smartphones
- Compact
- Hybrid
- REFLEX
* A Color Rendering Index (CRI) is a quantitative measure of the ability of a light source to truly reveal the colors of various objects compared to an optimal or natural light source.

Data sheet
MPN

SVLED60

EAN

3760173051915

Dimensions (WxHxD) in mm

92 x 45 x 237 mm

Weight (g)

139 g

Product type

Accessoire smartphone et appareil photo
No customer reviews for the moment.