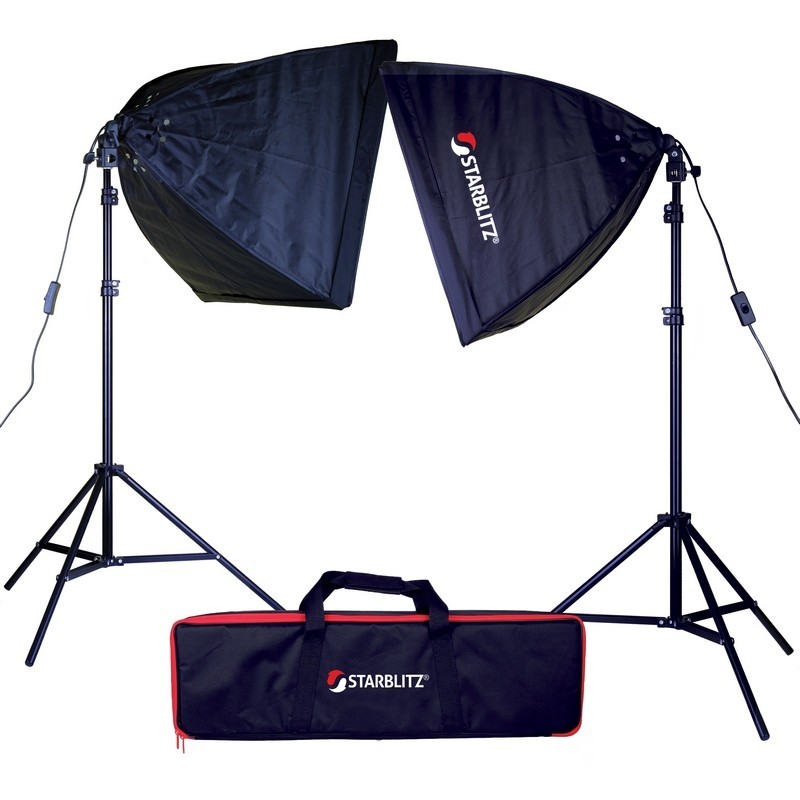  
Continuous Light Lighting Kit Photo Video SKITBULB60
SKITBULB60 : Continuous light kit consisting of :
- 2x 60W bulbs, E27 socket, CRI> 80, Class A, 5400K, 2x 500W equivalent
- 2x pneumatic feet extension 70-220 cm with thread 5/8
- 2x 50x50 cm light boxes, power cables
- 1x transport bag 82 x 23 x 17 cm
_________
For hybrid photo video use. The Starblitz SKITBULB60, the light kit you need to start shooting.

Unpacking SKITBULB60
Let's unpack each element of this Continuous Lighting Kit Photo Video SKIBULB60 together :
Transport bag dimensions: 82 x 23 x 17 cm

Reach strap

Zipper

Padding

Durable protective nylon

Interior partition
---
2x BULBS

LED lamp 60W ventilated

Energy class A bulb

CRI color rendering index> 80

Color temperature 5400K

Power 60W (500W incandescent equivalent)

E27 socket

The ventilation grilles allow better cooling and accelerates the dissipation of heat. Important operating cycle.
---
---
2x Pneumatic feet Extension 70-220 cm with thread 5/8


2x light boxes 50x50 cm, power cables
---
EASY AND FAST SETUP

Less than 5 minutes top time to be in place with the set installed.
---
USE : Perfect for enhancing your videos

You are Youtuber, on Vimeo, Twitch, or any video streaming platform ?

GUARANTEED RESULT

This lighting will give a professional side to your videos.
Which one to choose between a continuous light or a flash light ?
In photography, you will not achieve the same results using continuous light or flash light.
If you want to be able to sync high speed or have other possibilities in terms of lighting schemes, we offer a range of cobra flashes but also studio torches (SHARK200 / SHARK400) or autonomous torches (ASPIC400ETTL).
Please read the provided manual carefully (download it below).
No customer reviews for the moment.