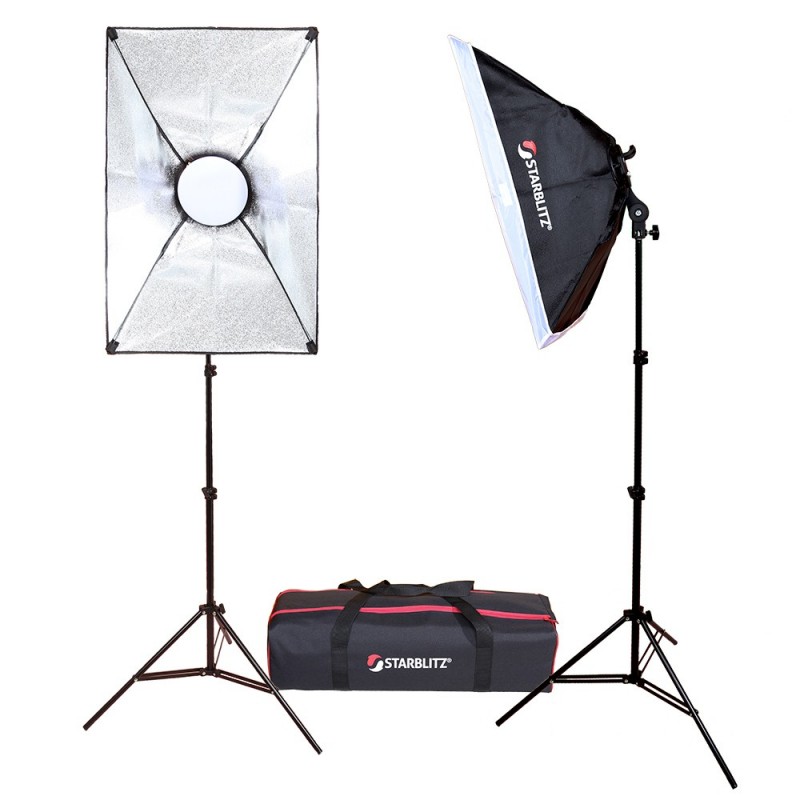  
Complete LED continuous lighting kit for vloggers
Complete lighting kit for vloggers and Youtubers
Contains:
- 2x LED lamps (lighting power: 2 x 50W)
- 2x light boxes 50 x 70 cm
- 2x outdoor diffusers
- 2x pneumatic studio tripods
- 1x transport bag
A complete lighting kit
Using a continuous light kit allows you to create creative shoots. The two light boxes provide soft light.
This complete lighting kit is intended for both beginners and professionals. It is recommended for vloggers or Youtubers.
Become an expert in continuous light easily!
Features
Color balance: 5600K
Lighting power: 50W
LED diameter: 18 cm
Luminous flux: 1400 LUX
Voltage: 60 Hz
CRI: ≥ 91 RA
3.5m mains power supply (separated by LED lamp)
Total weight: 4,780 KG
EASY AND FAST SETUP

Less than 5 minutes top time to be in place with the set installed.
Transport bag
Transport bag dimensions: 82 x 23 x 17 cm

Reach strap

Zipper

Padding

Durable protective nylon

Interior partition
USE : Perfect for enhancing your videos

You are Youtuber, on Vimeo, Twitch, or any video streaming platform ?

GUARANTEED RESULT

This lighting will give a professional side to your videos.
Which one to choose between a continuous light or a flash light ?
In photography, you will not achieve the same results using continuous light or flash light.
If you want to be able to sync high speed or have other possibilities in terms of lighting schemes, we offer a range of cobra flashes but also studio torches (SHARK200 / SHARK400) or autonomous torches (ASPIC400ETTL).

Please read the provided manual carefully (download it below).
No customer reviews for the moment.
Customers who bought this product also bought: