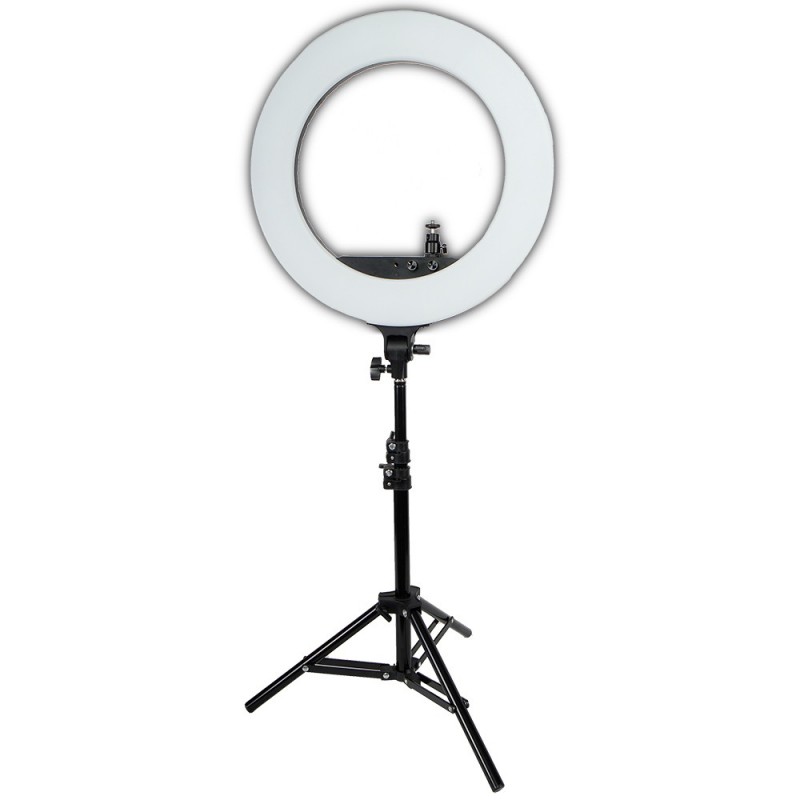  
LED continuous ring light 480 LED, 60W, 3600 Lumens, 3000-6500K
Continuous ring light diameter 49 cm
- 480 LEDs
- 60W
- Color temperature adjustment: 3000-6500K & light intensity up to 3600 lumens
- CRI (color rendering index): ≥90
- Possibility to hang accessories: mirror, phone holder, digital camera
- Studio tripod
- Ball joint for hot shoe
- Transport bag
LED ANNULAR CONTINUOUS LIGHT KIT
Whether you are an amateur or professional vlogger or simply looking for a powerful lighting accessory for your videos, the Starblitz "ring" is made for you.
If you are more an adept of inside photo shoot as portraits, then this kit will also suit you perfectly.
This is a complete kit consisting of a tripod where the ring is attached. You have also a ball joint  included where you can add:
-a smartphone, phone holder not included in the kit, find it here.
-a hybrid camera.
The transformer is located inside the product to save space and make it more practical.
MAXIMUM QUALITY RENDERING
Thanks to the temperature and light intensity adjustment buttons, a wide choice of shots is possible. Likewise, with a CRI (color rendering index) ≥90, this light kit perfectly respects the colored appearance of your illuminated surfaces.
Light intensity: up to 3600 lumens
Watt power: 60W
Color temperature: 3000-6500K
Transport bag included.
@deli.nimes
No customer reviews for the moment.
Customers who bought this product also bought: