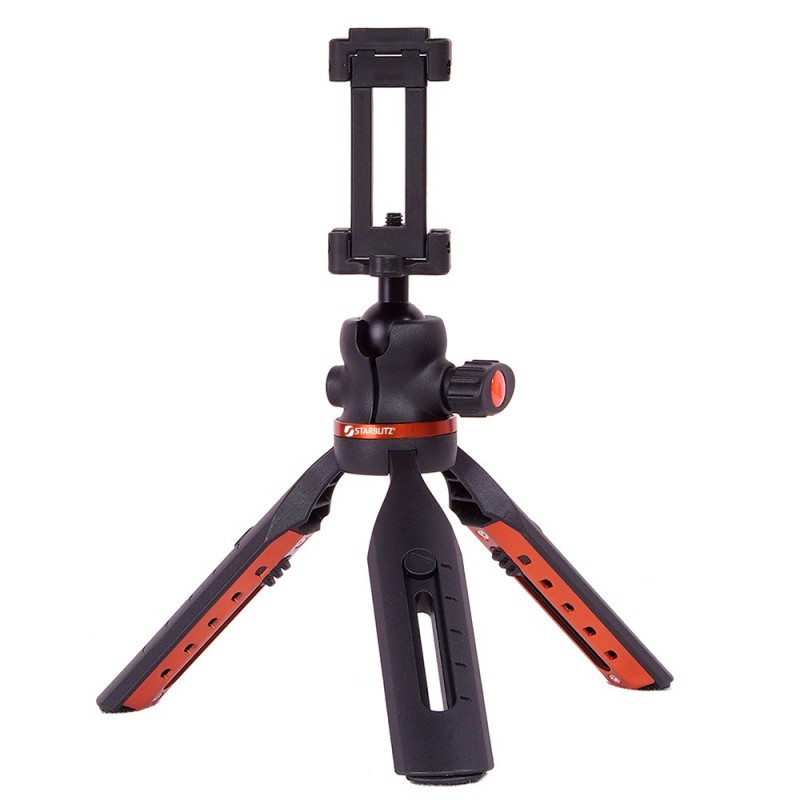  
Mini tripod for Vloggers with shoe for LED panel 3Kg supported
5-position mini tripod
360 degree panoramic; tilt tilt -90 °
Extension 16-19 cm; Supported load: 3 kg
Dimensions and moderate weight: weight of 256 g, about 20 cm folded
Integrated dual-support ball head: smartphones and cameras. Perfect for vloggers!
Possibility of adding a flash shoe and an articulated arm (1/4 thread on the side)
Mini Tripod Starblitz ALP
A complete product evolution: from HELIX to ALP
Following the success of HELIX, Starblitz decided to improve its mini-tripod offer.
From 2 positions, we now have 5 positions. From 750 g supported, we now have 3 kg supported. An improvement of the ball head with a bi-attachment support provided.
2 in 1 combo for smartphones and cameras
The ALP supports up to 3 kilos (vertically). Enough to support any smartphone, compact camera, bridge, hybrid, or a SLR.
To fix the camera, you can use the universal 1/4 photo screw thread.
For the smartphone attachment, you need to insert it into the vice, which unfolds from 5.8 cm to 9 cm. Indeed, the compatible smartphone size is 5.8 cm-9 cm.
BONUS: A FLASH CLAW INTEGRATED TO THE PHONE HOLDER
Thanks to the flash support, you can add a light source, a microphone ... or both together with a specific dedicated support. This set is complete if you want to use it as a vlogger. A 1/4 thread system on the side allows you to add your smartphone.
A super well-designed mini tripod head
The ball head, like a classic tripod ballhead, can be oriented in different ways. For this there is a clamping latch on the side. You just need to tighten or loosen it to be able to move to the desired angle.
360 degrees in a panoramic way. At -90 degrees vertically, for portraiture for example.
The ball head of this mini tripod also has a bubble level.
It's possible to add a flash shoe and an articulated arm.
Can the ALP be used anywhere? Yes
This mini tripod can be used both indoors and outdoors.
Indoors, you can use it as a table tripod. For family photos, you can put it on a piece of furniture or on a table.
Outdoors or while traveling, your camera equipment will be safe, at a reasonable height above the ground surface. So potentially away from mud, sand, puddles. The materials used (ABS, aluminum, rubber pads) make it a non-messy or easy to clean support.
Swiss Army Knife
By offering a version for both smartphones and cameras, this mini-tripod will appeal to vloggers to make great video recordings. Compact, it can be stored anywhere with a weight of 256 g. Imagine. Hardly unfolded, you just have to press the red save button.

Data sheet
MPN

ALP

EAN

3760173051724

Weight (g)

256 g

Max height

19 cm

Hauteur min.

16 cm

Number of sections

5

Warranty

2 years

Tripod Head Kind

Ballhead

Product type

Tripod
No customer reviews for the moment.