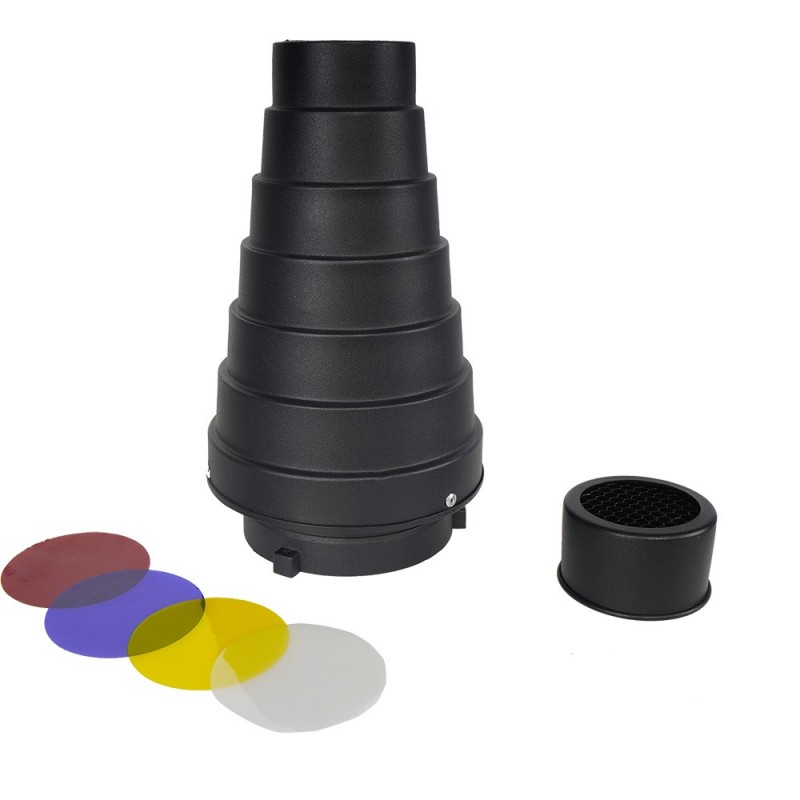  
Flash modeller for Bowens mount
This snoot modeler allows you to focus the light of the flash on a specific area.
Kit sold with :
1 snoot
4 colour filters (red, blue, yellow and white)
1 removable honeycomb grid
Mounting: for standard flash type S Bowens
Dimensions: length 24 cm, diameter at the base: 10 cm, diameter at the end: 6 cm
Weight: 18.8 g
Bayonet system
Aluminium alloy
SPECIFICITY

The Starblitz flash modeller is an essential accessory used to create various effects at different color temperatures. You can easily take control of the light source.
A COMPLETE KIT

1x Snoot
1x Honeycomb
4x Color filter
This modeler is a kit sold with 4 color filters (red, blue, yellow and white) as well as a honeycomb insert which is added at the end of the accessory.
The honeycomb insert offers a straight illuminated line that gives more precision in the direction of the light.
This conical snoot has a bayonet locking system for quick and stable mounting. With its Bowens attachment, the snoot fits over a flash light source.
A CREATIVE USE OF THE PRODUCT

The ideal use of this product is for portrait photography. For example, to illuminate a background, to highlight a model's hair or a detail of a scene (ex: still life, food).
It is made of aluminum alloy, which makes the modeler more durable and robust.
This effect light is one of the best product to control directional light!
No customer reviews for the moment.