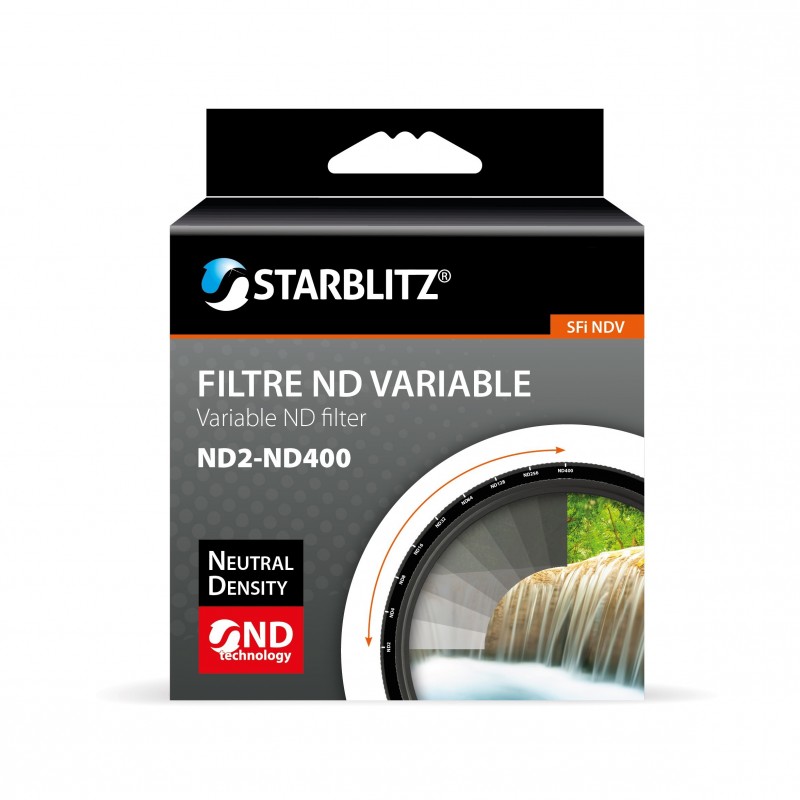  
Graduated Variable Neutral Density Filter ND2 to ND400
The variable neutral density filter, from Starblitz SFINDV series, is THE filter you need to make long exposures.
It replaces several ND filters fixed value with its versatility (8 stops from ND2 to ND400).
You have a graduation of density level on the filter mount.
Useful to express his creativity through pictures and video.
A graduated variable neutral density filter
Circular screwing filter commonly called variable ND, variable neutral density or neutral gray variable.
On the frame of the filter, you will see 8 stops, from ND2 to ND400.
Here, the features of the different stops:
To check the filter size you only need to look at the lens user guide or otherwise, read the size indicated directly on the lens.
Available diameter: 49, 52, 55, 58, 62, 67, 72, 77, 82 mm.
Perfect for long exposures
This filter works with a tripod and a programmable remote control (For example: the SRC-Frequencia).
Neutral density filters are for experienced photographers who already know something about exposure time, with full gear (tripod + remote control).
For what kind of photo?
You want to express your creativity using a variable neutral density filter.
You could for example shoot:
- A waterfall, river, sea
- An urban scene with vehicles
- A place where you want to "erase" bystanders
We await your shares to publish photos that you have taken with one of our ND filters. Please send them to us via our social networks #Starblitz #SFINDV.
Competitive prices
Compared to a fixed neutral density filter, you can vary the effects and adjust your settings. One filter is therefore sufficient for multiple use.
For video, you can also change the amount of light transmitted depending on the time of day. This is very practical and economical compared to buying several fixed neutral density filters.
A great filter on the market in terms of quality-price ratio among the brands: Hoya, B + W, Light Craft, Heliopan, Tiffen, Haida, Lee Filters, Nisi. Shop around !

Data sheet
Filter type

Variable Neutral Density
Specific References
ean13

3760173049158
No customer reviews for the moment.
Customers who bought this product also bought: