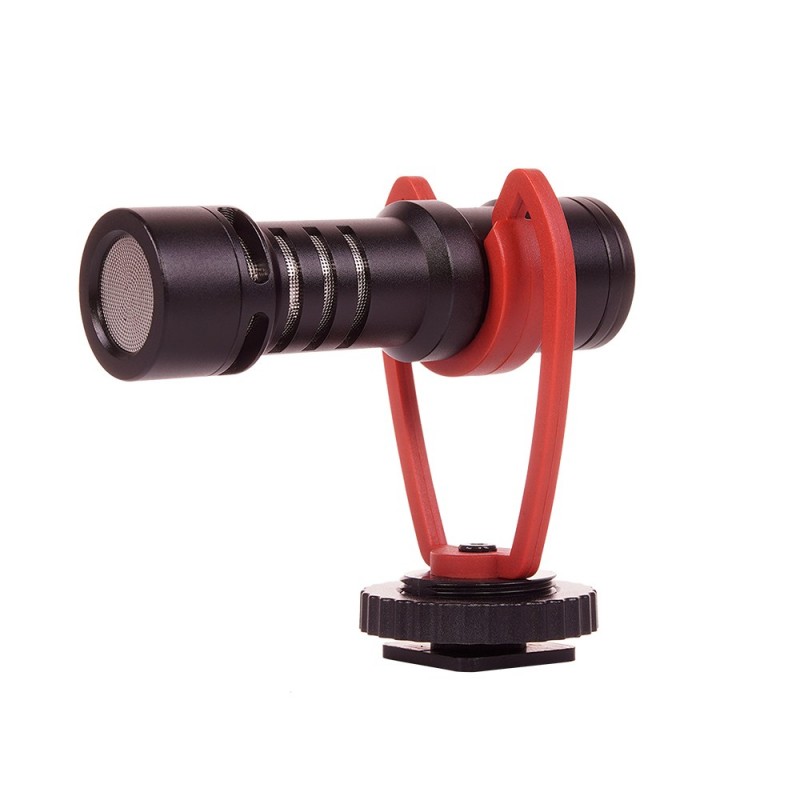  
Professional multi-support VLOG microphone SVMICRO
Electret condenser microphone
Do you like to use your smartphone or camera to make vlogs? Not satisfied with the audio quality of your videos? 
Generally speaking, the audio quality built into smartphones or cameras is not up to scratch.
The Starblitz Professional Microphone takes your productions to the next level. It faithfully records your videos or podcasts. It is compact and lightweight so it can be added to your equipment.
It's easy to use. Just connect the Microphone to your equipment via one of the two included cables and start recording. With no batteries, it allows you to shoot without stopping.
Audio Level Ratio 70dB
Sensitivity -38.0dB (F=1KHZ, S.P.L.=1Pa, 0dB=1V/Pa)
3.5mm TRS and TRRS connection
Features
| | |
| --- | --- |
| Sensor | Electret Condenser Microphone* |
| Polar pattern | Super cardioid recording |
| Frequency | 20-20kHz |
| Ratio de Niveau Audio | 70dB |
| Sensibilité | -38.0dB (F=1KHZ, S.P.L.=1Pa, 0dB=1V/Pa) |
| Connexion | 3.5mm TRS et TRRS |
Aluminium housing with scratch resistant ceramic coating
Windscreen
Shielding against RF interference
Directionality: cardioid
3/8" thread for tripod
Ultra-portable dimensions (less than 14cm long)
Weight: 86g
This professional microphone is dedicated to content creators who want to optimise the quality of their sound recordings. If you find yourself in noisy or crowded places (cars, crowds), the best way to capture your voice, for example, is with this microphone. With its cardioid directional system, the noise around you is attenuated while the sound of your voice is isolated. Your voice will be truly clear and understandable.
You can also use this professional microphone in action (running, jumping) without any problem. It does not pick up noise from your movements. This accessory absorbs shocks to keep the recorded audio clear.
Included in this kit is a protective cover to prevent hearing wind, fans or air ducts for example. This makes it suitable for outdoor use in all circumstances.
Simple and intuitive operation
When configuring the Starblitz Microphone to your equipment, simply attach the Microphone to its dedicated bracket and turn the claw clockwise to lock it in place. Ideal for your vlogging sessions!
*The difference between a standard condenser microphone and an electret model is essentially the way an electric field is created between the diaphragm and the back plate. Standard or "true condenser" mics use an external power source, often phantom power: the well-known 48-volt variant supplied via the mic inputs of many mixers and audio interfaces. An electret microphone, on the other hand, has a magnetic layer on the back plate or diaphragm. Therefore, it does not require an external power supply. Electret microphones are permanently polarised at the time of manufacture. Note that they do require power for the built-in preamp, but it is usually only a very low voltage. Electret condenser microphones can therefore easily be powered by a battery or via the input of your smartphone, laptop or camera.
No customer reviews for the moment.